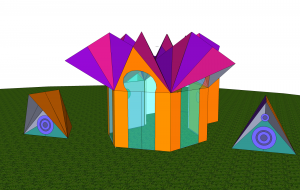 the hexathedral is a trip down a possibility in the triangles and rectangles of the classic.  it makes me laugh.  it would make me even more giddy if someone were to build one of these somewhere/how.  i got started on this angle with a variation by kurt klingbell, which got me on the stellated roof concept.
this version didn't seem as practical as the standard hexayurt, or even necessarily feasible, but it did have an aesthetic appeal, so i turned it into a church.  with a big soundsystem made from the same arrangement of triangles as the roof.  the speaker covers may be the most practical part of this model.
this is (L) copyleft… use freely BUT YOU HAVE TO TELL ME ABOUT IT!!  and send pictures.