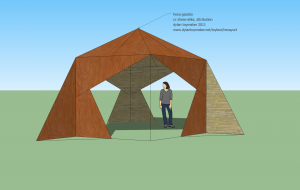 a question was asked on the hexayurt google group (if you like hexayurts in a big nerdy way, and are not already on that list, why not browse over to http://groups.google.com/group/hexayurt/ to add yourself) about hexayurt based gazebo structures.
i have had this file in my pocket for a few months, done up extra special for a top-secret art installation, so i cleaned up the secret parts to show the basic framework of the hexa-gazebo.
i imagine this design to work best with plywood triangles, this may in fact be my only all-triangle hexafamilly design.  maybe not.  there are a lot of fun things to do with triangles.
as it has not been built, i do not know how strong the plan is.  there are a few places where extra reinforcement may be needed.  they are noted with simple lines-  between the base points of the Leg Triangles, and from the center of the 3 open wall spaces.  putting a 2×2 or something similar there would also allow convenient attachment of bug screens, drapes, or whatever else the local ecosystem needs for comfort.
here is the downloadable sketchup (version 8) file:
as noted in the file and picture, these pictures and files are available under the creative commons license (CC BY-SA) -attribution, share-alike;
and since i had to look it up to find out what i meant, here is the link to cc-by-sa 3.0.  hope you found it as educational as i did :)  actually, i hope everyone already knows all about it, cause it's awesome.
enjoy!
(and send me pictures if you build one!)