Watching Open Source unfold is such an exciting thing.  I'm one of those guys with a million and ten ideas about how to change the world and no time to do 99.9994 of them (that's right, 16 amazing things to pay attention to!).  But dropping a thought into an expanding culture… way more efficient!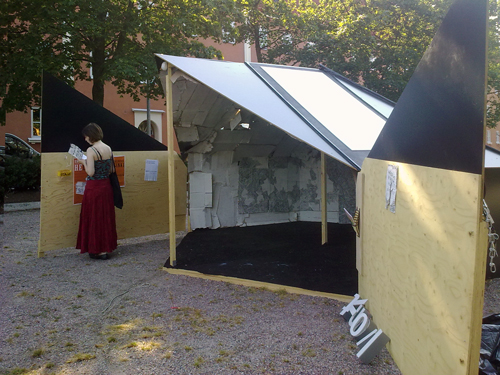 A few months ago, an installation of an H13 hexayurt caught my attention:  Korkalo is an artist collective in the neighbourhood of Vallila in Helsinki, Finland.  They installed and inhabited a fancy MDF hexayurt in their local park to serve as a stage and gallery.  The Question they Asked: what would art do in the face of a massive system disaster.  The Answer as near as I can tell (only some of the material is in a language i read) ; gather people to share information, comfort, and ideas.
The stage/gallery they chose to ask this question in is a very open source project, the Hexayurt, which is a great at catching the imagination of artists and crafty people by it ease of construction and efficiency of materials.  You don't have to show this design to a builder or crafter more than once for them to have it in their emergency toolkit forever.
I like how Kuori uses some strong hinges to make this hexayurt more open than most.
" Our idea was to create a hub, an enclosed space from which things could expand and contaminate the space of Hauhonpuisto Park. For this reason we planned our hexayurt so that two of the six walls effectively become a large gate opening onto the outside space."
check them out:
http://www.paolo-caravello.com/#1748757/Kuori