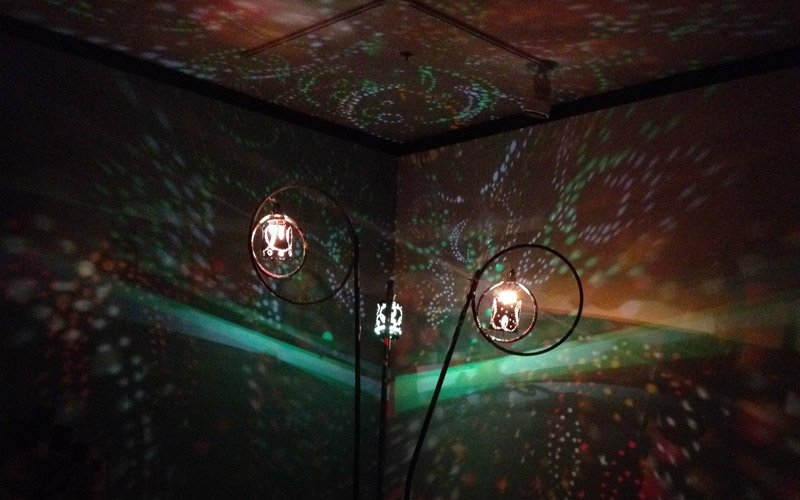 What is this RotoGoboScope?
The lantern that won the People's Choice Award at the IllumiNite event in Edmonton!
The RotoGoboScope is an innovative lantern that combines colorful LED lights with rotating mechanisms to produce a fantastic moving light-scape of patterned dots. It features custom electronics that are built into refurbished coffee cans, which are mounted onto a tower made of re-used metal scrap.
What does the name mean?
Well, "Roto" is for rotating. "Gobo"  is short for "Go-Between", and refers to an object that is placed in front of a light source to control the shape of the light emitted.  And "Scope" like in kaleidoscope, a device that creates moving color patterns.
This lantern is a creative extension of  my Can-O-Lantern series of decorative LED lamps, currently sold by Crystal Cradle. I have been handcrafting LED lamps using upgraded coffee cans for about 3 years.
RotoGoboScope was originally built for IllumiNite – and outdoor light design competition organized by Edmonton on the Edge.  It was installed outside for a night, in the park behind Sobey's on Jasper Ave. The nook it got tucked into was awkward, but the reception was excellent – the RotoGoboScope captured the delight of its viewers, and won the People's Choice award!
Good news – this amazing lantern is currently on display at the Cool Stuff Exhibit! You can find it at the University of Alberta Museum in Enterprise Square (10230 Jasper Ave) from March 22nd – March31st.
What is it made of?
Composed of  approximately 95%  upgraded metal scrap, plus some custom-built electronics.
The upgraded scrap components include :
6 bicycle wheel rims – from the local Bike Repair Collective
steel EMT pipe – from an outfitter tent repair job
a laundry machine drum – scrap yard special
a clothing display stand – someone must have donated this to our pile without asking
3 coffee cans – readily available
hard-drive platters – from old computers
The rest of the parts are :
9 1-Watt LED's —  red, white, yellow, and green
3 rotating gear-motors
various electrical components – drivers, transformers, connectors and wires
1m steel tube and shaft
It runs on regular household electrical current (110V AC) via transformers, or directly on a 12V DC battery.
Sweet. What does this light look like in motion?
I thought you'd never ask.
Can I Get One?
Soon. There aren't any ready made, but you can commission one.   This one is rent-able for special events. The Can-O-Lantern series of lamps are available at Crystal Cradle.