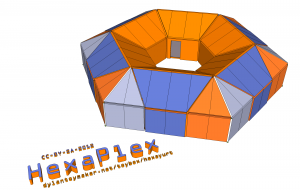 The other day, hanging out on the facebook hexayurt group, I discovered a design request for some arraigned H14s from months ago.  Sounded good, so I strung some sketchup hexayurts together and posted the picture.  Thinking about it later that day, I realized there were these gaps at the corners that were remarkably  like 1/3 segments of hexagons… almost as if they could fit more hexayurt sections in.  So I cut up some more hexayurts in the model and jammed them in.  Success!  The Hexagon Fills Its Gaps Again!  Love it.  And the HexaPlex was born.
Expansive Floor Plan!
With 8 standard Hexayurts worth of floor space, the covered area in the HexaPlex is a stunning 1328'2.  Plus a 166'2 courtyard in the center.    The outer circumference (for your (large) tension ring needs)  is 144′.   The first one of these that I build (crossing fingers) will have 6 posts and beams to go around the roof-peak line as well.  Partially for my over-stability needs, and partially as a handy solid place to hang lots of stuff from.
note: if you build it – which I would love – you take full responsibility for your safe construction.  I am and artist and designer, not an engineer or architect.  So there.
Download the HexaPlex Sketch here!
Sketch-up version 8 model is freely available for your modulating pleasure here.
As with all Hexayurt material on this site this is licensed CC-BY-SA : use freely and attribution is appreciated.
next step:  build one in real life.
and send me pictures.