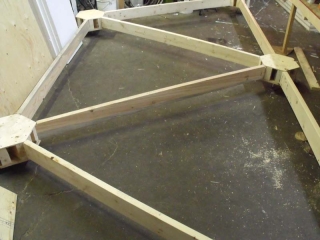 A couple people have asked recently about the base we made for the insulated hexayurt.  Turns out I took a bunch of pictures of the process, so here is a big gallery of base pictures.
Level-able Base
Every point of the base has a leveling pad.  It is made of an 8-10″ bolt or section of redi rod welded to a square steel plate, and a nut and washer for adjusting the hight. The hexagonal connector rests on the nut+washer, and gets lifted or dropped by tightening the nut underneath.
Modular Connectors
We thought that sometime we may want to put several hexayurts togeather, and so designed the connectors to be fully modular.  every point of the hexagon + the base gets a connector, and then lines get drawn between connectors with 2x6s.  that gets subdivided into halfs, and then inlayed  with 2x4s in the middle for de-bouncing.   This process could carry on, with more connectors and spokes, but that hasn't happened to us yet.
Sip Floor
For our build, we needed an insulated floor to go with the insulated walls and roof.  So Styrofoam and plywood sip it is.  If you are building a warm weather yurt, a thick enough floor to effectively bridge the gaps that the under frame leaves is all you need.  If you don't need portable, screw it down and you can save some thickness too. But if you are building permanent, than this connector-based build may be overkill.
Dimensions.. we had them
But I don't at the moment.  The basic theory is that you are making a 8′ edge hexagon out of triangles and struts.  If I find our drawings, I'll post them, if you do some drawings, you can send them to me to share here.
Disassemble!!
This base was designed for portable, temporary installation.  It worked, but the amount of effort is pretty high for any installation that lasts less than half a year.  If you are going to build permanent, there are easier ways.   If you are going very temporary, use a foam yurt.
Gallery
Here are the pictures, annotated as clearly as I can at this hour of the night.  Feel free to ask for clarification.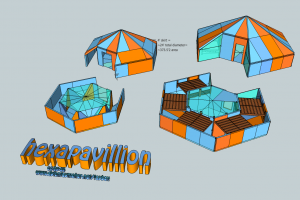 Introducing the Hexa-Bustle or Hexa Pavillion
While working on a spa design for the HexaPlex, i discovered some exciting things with the hexayurt roof design- it will quite happily extend outwards in any direction you like.  Same triangles, same angles.  Sweet!  Now what exactly does that solve?
Reduced Flat Exposure to Wind:
If you have a 6′ or 8′ wall hexayurt, you may be somewhat nervous to set it up in a windy universe; such as burning man, top of a cliff, Lethbridge.  And that would be reasonable caution.  but now you can extend your roof further, and make your outer walls shorter, making a safer yurt for your self and all your downwind neighbors.
So Much Space ! :
every 8′ roof wing that you attach adds a 1/2 hexayurt worth of floor space.  enough to fit 2 single beds or one queen.  plus personal storage.  5x 8′ wings (leaving one off for a tall door) will provide a total of 3.5 hexayurts in area- 406'2.  a more modest 4′ roof wing will give you .375 more area each.
Wow, so who's done this?
To my knowledge, no one.  so you can be first!  Help chart bold new ways in Hexayurtopia!  Send me pictures!  I would only recommend this to an engineer or experienced yurt crafter.   Please don't take this on for your first yurt.
Download the Hexa Pavillion Sketchup file now!
hexapavillion

1.40 MB
Download
This file has a lot of construction extras, so you can put together a bunch of different formats from components.  If you are not familiar with components in sketchup, there are a number of great videos on google to teach you all about it.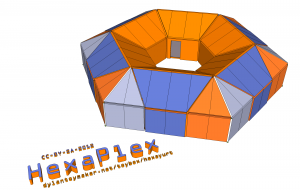 The other day, hanging out on the facebook hexayurt group, I discovered a design request for some arraigned H14s from months ago.  Sounded good, so I strung some sketchup hexayurts together and posted the picture.  Thinking about it later that day, I realized there were these gaps at the corners that were remarkably  like 1/3 segments of hexagons… almost as if they could fit more hexayurt sections in.  So I cut up some more hexayurts in the model and jammed them in.  Success!  The Hexagon Fills Its Gaps Again!  Love it.  And the HexaPlex was born.
Expansive Floor Plan!
With 8 standard Hexayurts worth of floor space, the covered area in the HexaPlex is a stunning 1328'2.  Plus a 166'2 courtyard in the center.    The outer circumference (for your (large) tension ring needs)  is 144′.   The first one of these that I build (crossing fingers) will have 6 posts and beams to go around the roof-peak line as well.  Partially for my over-stability needs, and partially as a handy solid place to hang lots of stuff from.
note: if you build it – which I would love – you take full responsibility for your safe construction.  I am and artist and designer, not an engineer or architect.  So there.
Download the HexaPlex Sketch here!
Sketch-up version 8 model is freely available for your modulating pleasure here. As with all Hexayurt material on this site this is licensed CC-BY-SA : use freely and attribution is appreciated.
Hexaplex

1.09 MB
Download
next step:  build one in real life. and send me pictures.
Watching Open Source unfold is such an exciting thing.  I'm one of those guys with a million and ten ideas about how to change the world and no time to do 99.9994 of them (that's right, 16 amazing things to pay attention to!).  But dropping a thought into an expanding culture… way more efficient!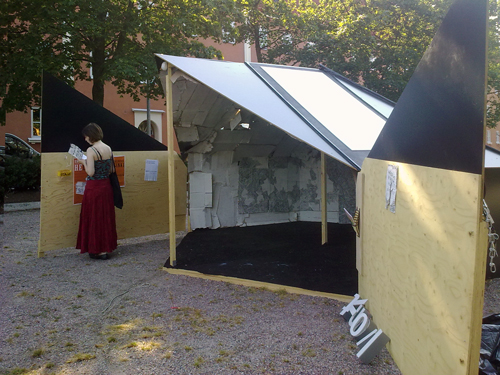 A few months ago, an installation of an H13 hexayurt caught my attention:  Korkalo is an artist collective in the neighbourhood of Vallila in Helsinki, Finland.  They installed and inhabited a fancy MDF hexayurt in their local park to serve as a stage and gallery.  The Question they Asked: what would art do in the face of a massive system disaster.  The Answer as near as I can tell (only some of the material is in a language i read) ; gather people to share information, comfort, and ideas.
The stage/gallery they chose to ask this question in is a very open source project, the Hexayurt, which is a great at catching the imagination of artists and crafty people by it ease of construction and efficiency of materials.  You don't have to show this design to a builder or crafter more than once for them to have it in their emergency toolkit forever.
I like how Kuori uses some strong hinges to make this hexayurt more open than most.
" Our idea was to create a hub, an enclosed space from which things could expand and contaminate the space of Hauhonpuisto Park. For this reason we planned our hexayurt so that two of the six walls effectively become a large gate opening onto the outside space."
check them out: http://www.paolo-caravello.com/#1748757/Kuori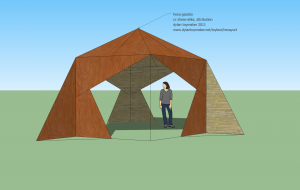 a question was asked on the hexayurt google group (if you like hexayurts in a big nerdy way, and are not already on that list, why not browse over to http://groups.google.com/group/hexayurt/ to add yourself) about hexayurt based gazebo structures.
i have had this file in my pocket for a few months, done up extra special for a top-secret art installation, so i cleaned up the secret parts to show the basic framework of the hexa-gazebo.
i imagine this design to work best with plywood triangles, this may in fact be my only all-triangle hexafamilly design.  maybe not.  there are a lot of fun things to do with triangles.
as it has not been built, i do not know how strong the plan is.  there are a few places where extra reinforcement may be needed.  they are noted with simple lines-  between the base points of the Leg Triangles, and from the center of the 3 open wall spaces.  putting a 2×2 or something similar there would also allow convenient attachment of bug screens, drapes, or whatever else the local ecosystem needs for comfort.
here is the downloadable sketchup (version 8) file:
hexagazebo

116.52 KB
Download
as noted in the file and picture, these pictures and files are available under the creative commons license (CC BY-SA) -attribution, share-alike; and since i had to look it up to find out what i meant, here is the link to cc-by-sa 3.0.  hope you found it as educational as i did :)  actually, i hope everyone already knows all about it, cause it's awesome.
enjoy!
(and send me pictures if you build one!)
New Years Eve, 2010.  Our community holds an annual gathering for about 5 days to celebrate and reflect on the last year and imagine for the next year.  We call it Intention Alberta, after the much longer running Intention on the west coast of BC.  This year we put a project in motion to test and increase our capacity to assemble off grid shelter.  The Hexayurt was the open-hardware building style we chose to work with.
There are a bunch of pictures and models posted previously; here we have a time lapse movie of the second stage of assembly.  the base was put together the day before.  As you may be able to see: we used a frame, square-edged SIPs (structural insulated panels) and triangular wedges to fill the corner gaps. Our next SIP-a-yurt will have beveled edges on the SIPs and just 2 posts (center+front) and one beam for framing.
Note the sexy bathrobes: this was the Steampod (the group tasked with assembling structures and fires, particularly the steam pod itself) uniform.  These bathrobes had a powerful effect on collaborative will and function.  Highly recommended for any other off-beat construction process.
..d
(the embedded frame disappeared for some reason, if it goes away again,the direct link is here)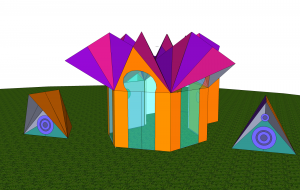 the hexathedral is a trip down a possibility in the triangles and rectangles of the classic.  it makes me laugh.  it would make me even more giddy if someone were to build one of these somewhere/how.  i got started on this angle with a variation by kurt klingbell, which got me on the stellated roof concept.
this version didn't seem as practical as the standard hexayurt, or even necessarily feasible, but it did have an aesthetic appeal, so i turned it into a church.  with a big soundsystem made from the same arrangement of triangles as the roof.  the speaker covers may be the most practical part of this model.
this is (L) copyleft… use freely BUT YOU HAVE TO TELL ME ABOUT IT!!  and send pictures.
hexathedral

540.46 KB
Download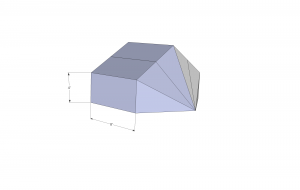 the hexatent, or tentayurt.  this model is part of a hexayurt mashup adventure i had late at night one day.  it may or may not have any advantages over the traditional hexayurt.  what it does have is the same number of triangles and rectangles as a regular hexayurt in a different form.
suitable to make you think different at the very least.  i'm also looking at the places where there are 8′ edges as locations that can be expanded with more flat panels.
sketchup (8) model :
hexatent 352.21 KB Download
this is a sketchup model that we worked from in building our first Structural Insulated Panel (SIP) hexayurt.  we needed something on the base to level the floor, as the floor was also SIP based (because of winter snow).  for this version we used full, square edged SIPs, with triangular foam to fill the gaps.  We DON'T RECOMMEND THAT.  Bevel your SIP corners instead.  less (fragile) junk to keep track of.
Model here:
insulated hexayurt h13 4.83 MB Download
to see how the situation turned out, check out one of the other hexayurt posts.  the one we built had 4′ walls rather than 6′ pictured here. also not shown in this model is the inside frame, which may be excessive, but we felt that better safe than sorry principal.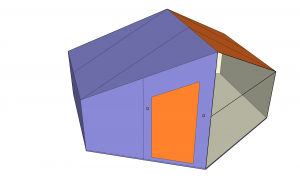 i've figured out some file serving on the blog here, so now i can offer you a model of the h13 hexayurt i've been working on. yay!  let me know if it works for you.
download the sketchup 3d model here:
h13 basic model

32.26 KB
Download
if you need the program first, get sketchup (free version) from trimble here: Sketchup