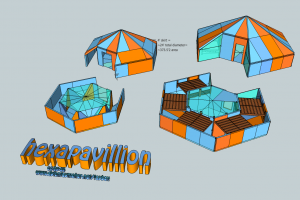 Introducing the Hexa-Bustle or Hexa Pavillion
While working on a spa design for the HexaPlex, i discovered some exciting things with the hexayurt roof design- it will quite happily extend outwards in any direction you like.  Same triangles, same angles.  Sweet!  Now what exactly does that solve?
Reduced Flat Exposure to Wind:
If you have a 6′ or 8′ wall hexayurt, you may be somewhat nervous to set it up in a windy universe; such as burning man, top of a cliff, Lethbridge.  And that would be reasonable caution.  but now you can extend your roof further, and make your outer walls shorter, making a safer yurt for your self and all your downwind neighbors.
So Much Space ! :
every 8′ roof wing that you attach adds a 1/2 hexayurt worth of floor space.  enough to fit 2 single beds or one queen.  plus personal storage.  5x 8′ wings (leaving one off for a tall door) will provide a total of 3.5 hexayurts in area- 406'2.  a more modest 4′ roof wing will give you .375 more area each.
Wow, so who's done this?
To my knowledge, no one.  so you can be first!  Help chart bold new ways in Hexayurtopia!  Send me pictures!  I would only recommend this to an engineer or experienced yurt crafter.   Please don't take this on for your first yurt.
Download the Hexa Pavillion Sketchup file now!
This file has a lot of construction extras, so you can put together a bunch of different formats from components.  If you are not familiar with components in sketchup, there are a number of great videos on google to teach you all about it.